After the last 1.5 years in the field of "remote working" a progress of 10 years is noticeable (based on the duration of the implementation), we at Learn4D365 are always ready in time to go new ways for our joint progress.
Like the combination of an online training + classroom, the next step is probably not to be seen as a replacement, but as a supplement. Meta, Microsoft and many others bring their visions of a so-called metaverse closer to (virtual) reality.
Horizon Workrooms
In Horizon Workrooms, VR glasses wearers can meet with friends and new people, exchange ideas, work on new ideas, discuss upcoming technologies, and much more.
As an innovation leader in the field of Dynamics 365 Learning, we at Learn4D365 have once again seized the opportunity at an early stage and launched the Learn4D365 Virtual Reality Community. On 15.12.21 the first Board Members Launch Meeting took place.
In addition to exploring virtual realitytogether for the first time, the main aim was to present new ideas and possibilities, to look into the future and to test the environment for its practicality. Especially in comparison to a classic video meeting (such as .B MS Teams).
It goes without saying that the next steps have been taken for this community.
Comparison to classic video meetings
Briefly coming back to the comparison with a classic video call, in our experience the following things are positive to highlight
Per
"Noticeable sense of space" – you actually feel like you are sitting with the people in a room and take this feeling visually and acoustically. Different visual and acoustic functions optimize this behavior
Easier interactions with several participants – similar to real life, it is easier to speak because the attention is "in the room – during the conversation" and not "just on the screen". All participants can be seen by everyone immediately. One "more" the "attendance overview".
Presentations / focus on the speaker and content – through integrated features allow the "real feeling of a presentation / training" as in a physical space.
Contra
Of course, you also have to consider the following things as contra:
Entry hurdle higher than at a video meeting because special, more expensive (currently) hardware is required (workrooms also allow the participants via browser, but then no VR experience)
Concentration/fatigue problem – As in video meetings and trainings, you have a concentration/fatigue problem after a certain time. We talked for 2 hours. We found this good and sufficient. Different generations will perceive this differently.
Entry,depending on the software, a bit challenging atthe beginning until you understand the process.
2 hours the VR glasses on the head / face is not for everyone
However, if we had to decide to continue the community in VR or via video call, in our experience virtual reality is clearly an advantage.
Other topics in the Learn4D365 Virtual Reality Communiy Launch were:
Virtual Reality Real Estate Inspection and Dynamics 365 Business Central – Alexander Sturm – Kumavision AG
Dynamics 365 Dataverse – Data / Analysis in Virtual Reality – Wolfgang Wolf – NAVAX
Dynamics 365 Learning – Digital Human – DVP Digital Valuable Instructor – Rene Gayer – Learn4D365
More Virtual Reality Learning Testimonials
However, an experience report should not be one-sided. For this reason, we have asked the participants to also make a short statement.
The first Learn4D365 Dynamics 365 VR Community Meeting was not only a great success, but also a lot of fun! I am sure that our community will continue to grow and that we will develop great ideas together.

Alexander Sturm – Kumavision AG (Experience Report)
The virtual train starts… and we are on board! Today's meeting was simply gigantic and shows what possibilities we already have today!

Sonja Klimke – Spots BSS
Great thing, but behaves like with the first phones: the more meaningful the more people participate in it. VR will be part of our future – getting on the train early pays off.

Stefan Gurszky – Amathan
For me, it was extremely important to try out the new function in practice within a real group. Meetings of this kind will prevail in 2-3 years, as soon as better glasses are introduced to the market. These are prepared by many manufacturers such as Apple and Samsung. I like the community around L365 because the people there have a similar level of experience and set the same priorities for the use of VR solutions.

Hans – Peter Gasser – COSMO CONSULT AG
Even though the whole VR technology has made an extreme leap in the last 1-2 years, we are still at the beginning. I am happy to be able to be there from the beginning with such a great community in this area. I firmly believe that sooner or later this will be a new way of communication that will also have a strong influence on our business. When you see how Microsoft Teams has been embraced, especially in times of pandemic, VR is the next logical step.

Marco Lubig – KUMAVISION AG
VR – limited by imagination!

Wolfgang Wolf – NAVAX
.. And now?
The ground-breaking ceremony for the virtual Learn4D365 world has been set. The first plots are demarcated.
Now it's about supplementing this addition with content and further progress. Discover new possibilities. To feel fun and joy in the process.
It's now about exploring Dynamics 365 places that perhaps no other Dynamics365 has ever seen before.
The 15.12.21 was the starting signal of this new Dynamics 365 community. All those present agreed that this must and will continue.
More information will follow.
LG Rene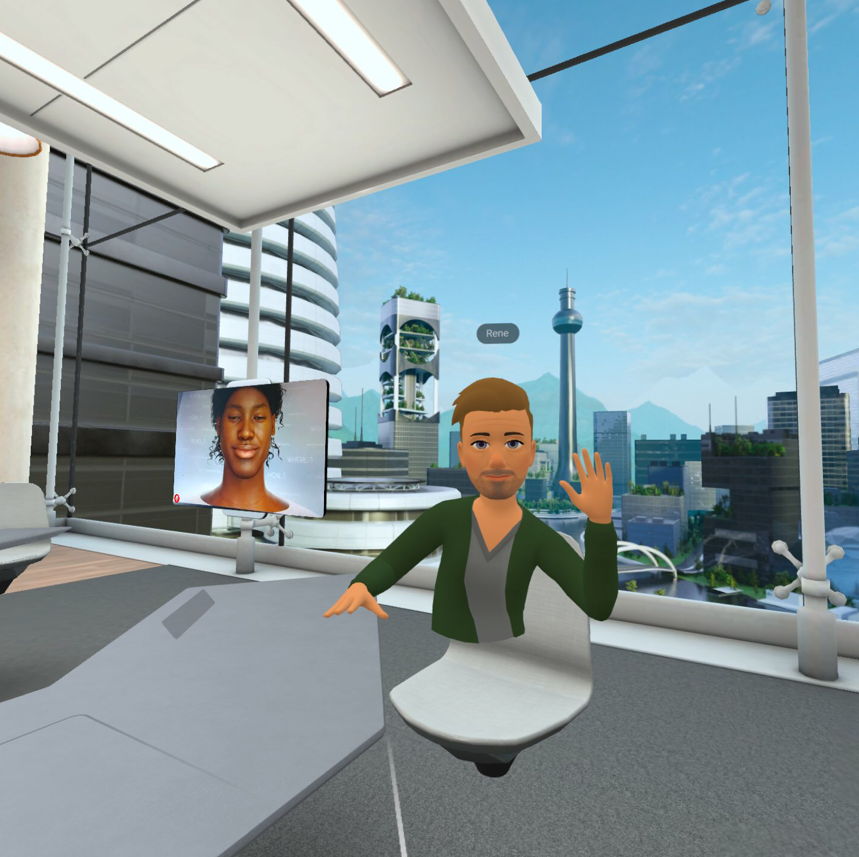 Impressions
Below you will find some impressions directly from the virtual world of the launch.